Brow Rehab
Good eyebrows can make a face look so put together – especially if you are a no-makeup, natural-girl. Eyes are such a beautiful feature on a woman's face. Let's make sure you are getting the best "frame" to show those gorgeous jewels.
Step 1 – Admit you have a problem.
Step 2 – Seek professional help.
Step 3 – Do not touch them between services until you have established your new and improved shape. Once you are well educated on your upkeep, feel free to pull out your tweezers again to do a little tiding up. You can also check out my how-to video on how I maintain my brows!
Rae Morris writes so well about eyebrows – here's an excerpt from her book Beautiful Eyes:
When it comes to facial features, little has more power and impact than the shape of your brows. Get the shape right and you have an instant face-lift effect. Get it wrong and it can cause all sorts of problems. For instance, many women don't realize that their eyebrow shape can visually alter the look of their nose (for all the wrong reasons.) What's more, the colour of your brows can either harden your features or take years off.
Great brows frame your eyes – they hold everything together and give your features definition and strength.
Here are the types of brows you should NOT have.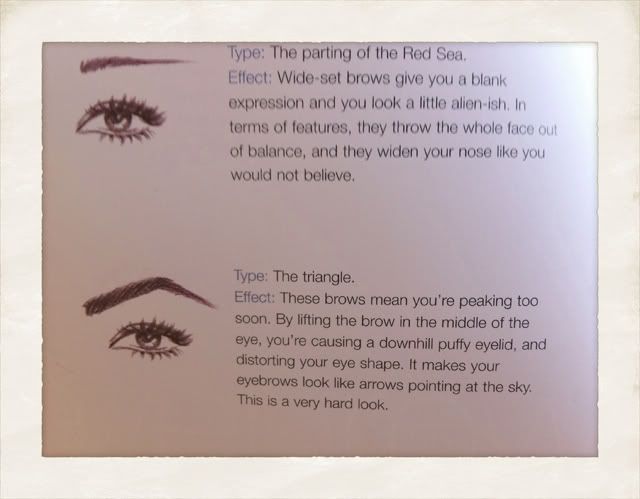 If any of the above brows belong to you, then my advice is an urgent brow rehab! But if yours don't strictly fit in with these types of brows, how can you tell if your brows suit you? First, look at yourself closely in the mirror. Study your eyes and brows and then completely cover your brows with your index fingers. Look at your eyes again. Do they look better with or without your current brows? If the answer is 'without', this says that your brows are doing more harm than good to your look. Now, don't run for the wax pot! Book an appointment with a brow specialist (someone with a good word-of-mouth reputation – ask your well-browed friends where they go) who will be able to design the perfect brow shape for you.
The easiest way to achieve a foolproof brow is to follow a few small rules and three long lines. Grab a an eyebrow pencil or liner to mark your "perfect shape".
1. Everyone has different -sized nostrils and noses, so your imaginary line must follow the natural line of the outer bridge of your nose. Got it? That is where your first bow hairs need to start! Then you can de-mono-brow all you like on the other side of this line.
2. Now, from that bridge line, draw another line that passes along the outer rim of your pupil and upwards. This is the highest point of any arch or height of the brow. This incline should smoothly follow the natural shape of your own brow. it's important to note that the arch isn't in the centre of the brow- it is very much off-centre, making the eye longer, sexier and with no 'surprised' look!
3. Finally, again from the bridge line draw a line to the outer corner of the eye. This is where your brow should end.