Bright Eyes – Flawless Skin IV
Puffy eyes? Wishing you looked bright eyed and bushy tailed? Here's how to get bright eyes in a jiffy :
The Culprits
Dehydrated – When the body senses that there is a shortage in water it starts acting like your crazy aunt and storing it all over your body/eyes.
Diet – Alcohol and salty foods are so fun & yummy but a dead giveaway the next morning!
Allergies – Flowers are pretty and all . . . . .
High blood pressure – It pushes fluids into the tissues of the eyes . . . ouch! Stop stressing especially about your puffy eyes!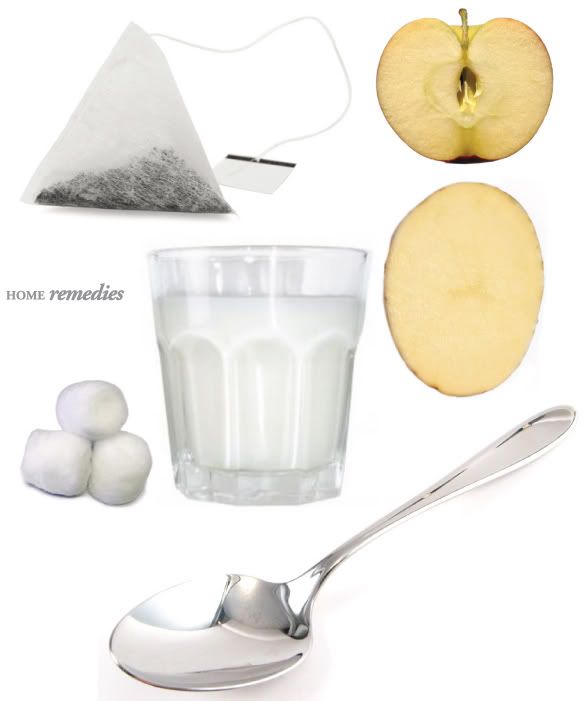 Home Remedies
• Have a cup of black or chamomile tea and once the bags are cooled down place on eyelids. The tannic acid constricts the blood vessels and woops those puffy eyes.
• Grab a slice of potato or apple and leave on for 10-15 mins. Potatoes help with dark circles and apples have pectin, which aids in anti-oxidation.
• Soak cottonballs in cold milk and place on eyes for 15 mins. It will brighten them, too!
• Two refrigerated (not frozen – they will stick to your eyelids like that scene in Dumb and Dumber!) spoons placed on your eyelids for at least 1 minute or until they get warm.
You can also buy a good eye cream that can help with decreasing dark circles and eliminating puffiness. A good eye mask will help you de-puff in an instant ( makeup-artists use this all the time before a shoot).
This serum is also really good, and all natural.
Check out the rest of the Flawless Skin Series:
Flawless Skin I- Evening Out Your Skin Tone
Flawless Skin II – Using Concealers
Flawless Skin III – Hiding Wrinkles